A cover letter is a letter of introduction, to both yourself and your resume, and your big chance to highlight the key skills and accomplishments that make you the best candidate for the job. The best cover letters tell stories, ones that have depth, character, and emotion, and they also allow hiring leaders to get a more complete picture of your professional life.
In the end, a winning cover letter will make a jobseeker appear as a real and relatable person, one who has the necessary talents to tackle the job and help the company succeed.

Even if only one in two cover letters gets read, that's still a 50 percent chance that including one could help you,

says Glickman, a Harvard Business Review contributor and author of Great on the Job.
How to Write a Cover Letter Pro Tips: 5 Recruiters & Industry Experts Explain Their Top Pet Peeves
Wondering what ticks off recruiters and career experts the most when it comes to cover letters? We reached out to a few and asked them to weigh in on their top cover letter pet peeves. Heed this advice while you're learning the ropes of how to write a cover letter!

STEPHANIE BARBU
Tech Sourcer, Product Marketing
Facebook
Don't write a flabby cover letter. That's my biggest pet peeve. You need to make sure every word counts in a cover letter—there's no room for fat. Choose dynamic words that pack a punch, and don't go past one page with a cover letter. I like seeing cover letter that are three paragraphs, tops. The opening paragraph should contain three sentences, max. The closing paragraph, too. The body paragraph—this is where the meat is. Around four sentences works just fine for me when it comes to the body paragraph.

TANYA BOURQUE
Chief Operation Officer/Cofounder
Untappt
My biggest pet peeve is the lack of research that candidates do before applying to a position. You should try to address a real person vs. using "Dear Sir or Madam" or "Dear Recruiter." You can use a cover letter template and then personalize it for each job you are applying for. My recommendation is making the first paragraph as attention getting as possible, and do this with a lot of research—prove you know the company. Don't just say you are applying for the job. Talk about what you like about the company.

MARGARET BUJ
Talent Acquisition Manager/ Interview Coach and Trainer
King
My biggest pet peeve is seeing this—applicants end with a weak statement such as "Please contact me for further information," or even worse, they end with a demanding and presumptuous statement, such as: "I'll call your office next week to schedule an interview." You can finish your cover letter with a call to action—it just can't be pushy. Ask for an interview. If you're confident that your experience and qualifications meet the requirements of the position, you can show that you're proactive by asking for the opportunity to convey that in person, and answer questions the employer may have.
Here are some examples I'd suggest:
I am confident I can exceed your expectations. I hope we can meet so that I can convey my interest in this position in person.
I would appreciate the opportunity to meet with you and members of your team. I will be flying to (city) in two weeks and should be available from (day) to (day). Thank you for considering my candidacy. I look forward to hearing from you.
I would appreciate the opportunity to meet with you in person to discuss my qualifications and answer any questions you may have. I look forward to hearing from you.

ROSE DOUGHERTY
Senior Recruiter
Bold
A major pet peeve is when applicants note the wrong company name and the wrong job title in a cover letter. Check, and double-check, to make sure you're noting the correct company and the correct job title before you send a cover letter. Also, don't address your cover letter to someone who's not at the company—try to find the name of the person you need to send the cover letter to, and address it to them.
If the job calls for you to do x, pull out the necessary elements from the job description and highlight how your experience and skills apply. One of the main purposes of a cover letter is for you to sell your skills, so be sure you do that.

RACHEL GUTIERREZ
Technical Recruiter – Product Marketing
Facebook
"Are you open to a face-to-face interview or phone call on the first of February at 10am?" This approach to closing a cover letter is very off-putting to me. I know you want to talk to me already. In fact, you are talking to me through your cover letter. Keep your closing statement short but direct.
Sum up why I need to talk you. Make sure you tell me all of this by the end of the cover letter: Do you have all the experienced required? Are you excited about the company and its mission? Do you align with the company's core values? If you can answer all of these questions by the close of your cover letter, you will have a much better chance at getting the interview/appointment you are asking for.
How to Write a Cover Letter in 4 Quick Steps
The prospect of learning how to write a cover letter may be terrifying. But really, it doesn't have to be. Keep in mind that the end result will work out to (almost always) a single page. Yep, just one page. Hopefully, knowing that you don't need to write a novel will put some of your fears to rest.
That said, you do need to tell a story, one that brings to life the aspects of your resume that best relate to the responsibilities and requirements profiled in the job advertisement. It sounds like a daunting task, yes. But once you break down the four sections of a cover letter and gain insight into how to write each section, a lot of your hand-wringing distress should come to an end.
We'll show you how to write a cover letter by walking through each section.
John Doe San Francisco, CA 94110 4150-000-0000 | jdoe@gmail.com Cover Letter Copy:Dear Ms. Dougherty,
As a recent graduate of the University of Santa Cruz, I know exactly what it's like to be a struggling jobseeker—in fact, the majority of my peers are still wading through the job search process. That's why I was thrilled to come across BOLD's Content Specialist position on LinkedIn. The opportunity to empower jobseekers by giving them the tools and knowledge they need to succeed while simultaneously developing my storytelling and content production skills is incredibly enticing.
I am confident that my past experience as a content producer intern in a fast-paced, deadline-driven online magazine publishing environment and my committed work ethic will allow me to contribute meaningfully to BOLD's mission by creating engaging and unique content to set BOLD apart from its competition. Thanks to a journalism degree and two past internships that required that I regularly created content based on an editorial calendar and that I kept tabs on analytics, I have strong theoretical and application-based knowledge of the digital media landscape. I've learned how to use various online tools to generate story ideas, the ins and outs of briefing and copyediting, and the importance that SEO plays in ensuring a content piece get's seen. Additionally, working simultaneously with multiple writers and departments has taught me to complete my tasks efficiently and to successfully work in a team. What's more, despite working since day one of my time at college, I have achieved a cumulative GPA of 4.0, a strong testament to my time management and organization skills.
I would love a chance to be able to translate these skills into meaningful work by bringing them to the Content Specialist role at BOLD, where I can help people transform their work lives and the get the job they want. Thanks for your time and consideration, and please let me know if you'd like additional information. Sincerely, John Doe
Your greeting or salutation is your first chance to grab your reader's attention and differentiate yourself from everyone else in the running. How? By doing the research, finding out the name of the hiring manager, and then addressing your cover letter directly to that person. So rather than writing a dull, generic 'To Whom It May Concern', start strong with a 'Dear Ms. [Last Name]'. This kind of extra effort doesn't go unnoticed.
Of course, if you've searched high and low and you can't find a specific name, you'll have to begin with a stock-standard opening. In this case, your greeting should be in line with the times; so don't use a salutation that's outdated, sexist, or both (like 'Dear Sir'). Keep your greeting lean and straightforward, like 'Dear Hiring Manager'.
"To whom it may concern." "Dear Sir." "Dear Madam." What are these, you might ask? They're tired, outdated cover letter salutations, ones that impress no one.
Always aim to personalize the opening salutation/greeting. If the name of the person you're submitting your application to isn't listed in the job advertisement, channel your inner-Sherlock Holmes and do a little sleuthing. Try to locate the name of the position's hiring manager or the person in charge of the department. You can put LinkedIn to work here—look up the company you're applying to, then sift through the employees to see if you can find the right person to address your cover letter to. If you find the right person, great! If you come up blank, or if you're really unsure as to who specifically to address your cover letter to, be safe, and put the "Dear Hiring Manager" salutation to use.
Here's where you dive deep, and explore 1) your career history; 2) your skills, and how they tie to the position; and 3) your knowledge of the company, and how you can help them succeed.
One of the greatest sins a cover letter writer can make in this section is taking what's in bullet point form on their resume and transferring it over, virtually word-for-word, to the cover letter. The recruiter or hiring manager reading your cover letter doesn't want to see a rerun! They want to see how the related skills and accomplishments on your resume helped you learn, grow, and improve. So tell a story about something that isn't readily apparent on your resume, and tie it to one of the most crucial requirements of the job you're applying for. In this example, the applicant accomplishes just that.
Keep it to the point. Re-express interest in the company and the role, and how excited you are by the prospect of working for the company. Then, thank the reader for their consideration. BAM! Now you know how to write a cover letter.
Appearance Counts: How to Choose the Best Cover Letter Template
What you say in your cover letter is important. Here's something else that's important: the appearance of your cover letter. Below you'll find advice on how to choose a cover letter template that best suits your job application needs.

Use an easy-to-read font

When it comes to cover letter fonts, don't use a loopy, frilly, or excessively artsy font (for example, Bauhaus 93). Instead, use a font that's safe and easily digestible, like Times New Roman, Cambria, or Arial. Your main goal when it comes to font is to make sure your cover letter is easy on the eyes of the reader.

Be cautious with color

If you're applying for a job in a creative field and have a header in your cover letter, you might consider adding color to your name (if you want). Other than that though, all text in the cover letter should be just one color, and that color is black.

Don't get overly inventive

A cover letter is not the place to dazzle a reader with your artistry. Don't embed a picture of yourself in place of a header. Don't make the background of your cover letter hot pink. Your overall aim when learning how to write a cover letter—when it comes to its overall appearance—should be neatness, simplicity, and legibility.
Professional Cover Letter Templates
How to Tailor Your Cover Letter to Match a Job Ad
When learning how to write a cover letter, know that personalizing the letter and tying it to the requirements and specifications of the job ad is of critical importance. You cannot send out a generic cover letter for any job you're applying for—this is the ultimate cover letter sin. Here we've provided a job advertisement and a cover letter that's been written in response to that job advertisement. Below the images are steps to take to ensure you accomplish the same type of personalization when writing a cover letter.
Professional Cover Letter Templates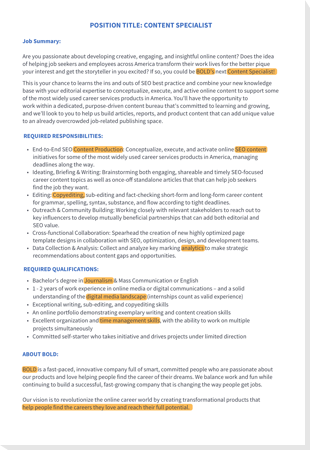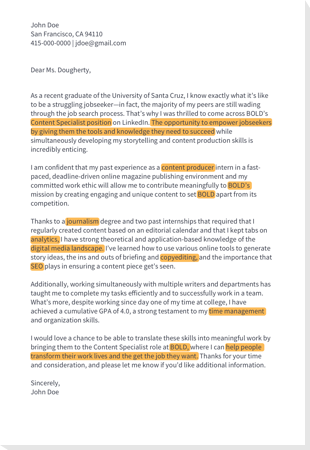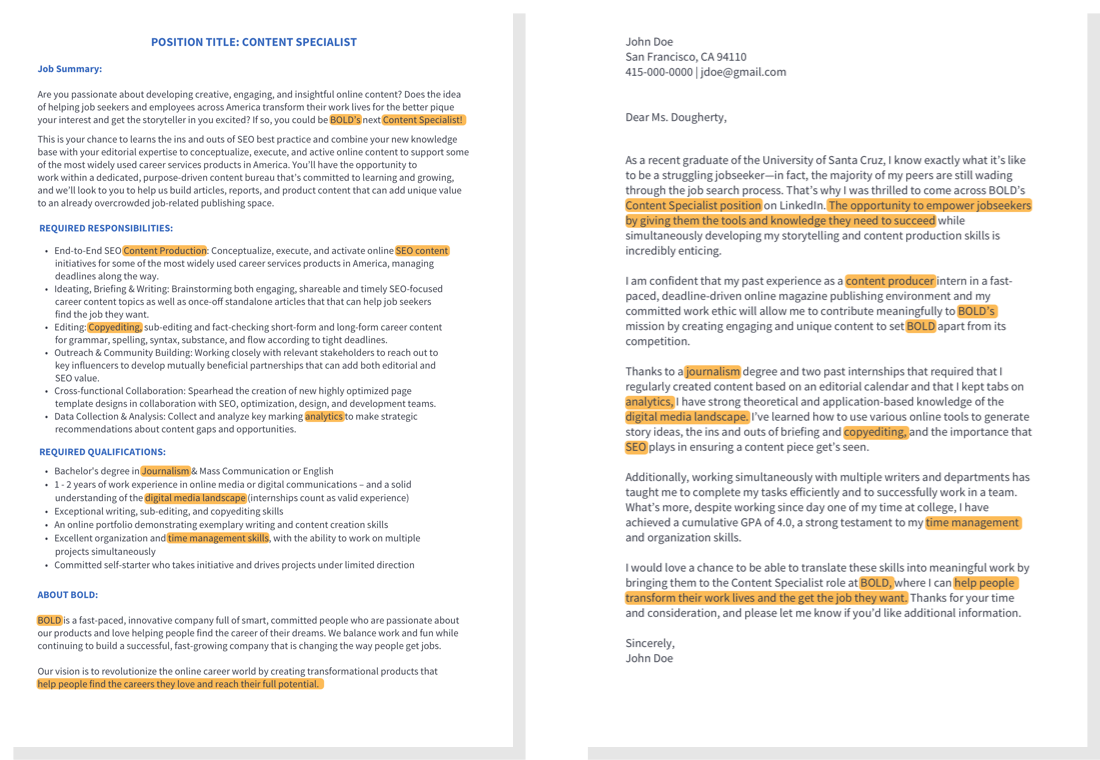 4 Steps for Personalizing a Cover Letter in Minutes
STEP #1
You need to note the name of the position you're applying for in the opening paragraph. You cannot afford to paint a cloudy picture for the recruiter or hiring manager about which job you're applying to (remember: they see many, many job applications). Also, write out the job title as it appears in the job ad.
STEP #2
You also need to note the name of the company you're applying to.
STEP #3
What does the company do? What's their mission? What are they all about? Prove you know the basics about the company you're applying to. Align your goals with their mission statement. Mention a story about them that's been in the news. Prove you know what they do. No need to write out their entire history, but display an understanding of the basics.
STEP #4
Write about how you plan to use your talents to help them succeed. Here's where you take your skills and accomplishments and attach them to what the particular job calls for and what the company is after in regards to the ideal candidate.
Need to Write a Cover Letter Fast?
Learn the art of how to write a cover letter with Cover Letter-Now! In fact, let us do a lot of the work! Our cover letter builder makes cover letter writing easy—choose a letter from our library of designs, customize to your liking, download, and send it out!
Create Cover Letter